The Australian Federal Government has signed a new five-year designated area migration agreement (DAMA) with the Shire of Wyndham–East Kimberley  (Western Australia). The signing of the EK DAMA is one of several now established in the region, including the Goldfields, the Pilbara and the South West (Dardanup) DAMAs.
The EK DAMA will help local employers to recruit skilled, and semi-skilled workers needed to fill critical skill shortages in the region. Attracting workers to these areas of Australia is a priority for the Morrison's Government, which continues to step up its commitment to regional Australia via the migration system.
The new DAMA will provide access to over 100 occupations, ranging from industries such as forestry, aquaculture, administration and support services, tourism, and aviation. Significantly, many of the occupations included in the agreement are not available under the existing employer-sponsored visa programs.
Most importantly, the EK DAMA will offer overseas workers a clear pathway to permanent residency and a range of concessions to skilled visa eligibility criteria to help attract and retain the right people in the area.
From 1 April 2022, the EK DAMA is open to businesses operating in the Local Government Area of the Shire of Wyndham East Kimberley.
The EK DAMA is a four-stage process.
Step 1 – DAR endorsement – Employers must seek endorsement from the Designated Area Representative before lodging a labour agreement request online through Immiaccount.
Step 2 – EK DAMA Labour Agreement request – the online form in Immiaccount outlines the requirements and supporting documentation required for labour agreement requests.
Step 3 – Nominating the Overseas Worker/s – the business nominates and sponsors​ skilled and semi-skilled overseas workers for occupations included in the DAMA.
Step 4 – Nominee/s apply for their visa – this is the final step, where the proposed employee applies for the relevant employer-sponsored visa subclass.
While DAMAs facilitate access to overseas workers, the agreements also aim to ensure that employers recruit Australian citizens and permanent residents as a first priority. It is critical to acknowledge that employers must still demonstrate a genuine attempt to recruit Australians before accessing a DAMA labour agreement.
Anzscosearch and All DAMA Lists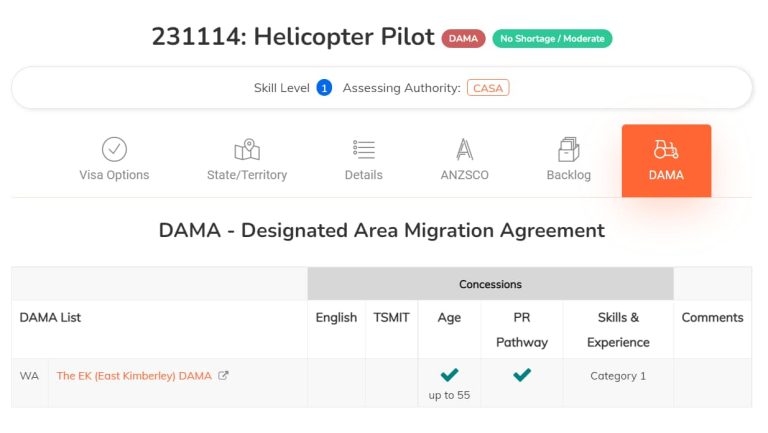 You can also access all DAMA lists and check all eligible occupations at once in the Combined DAMA list.