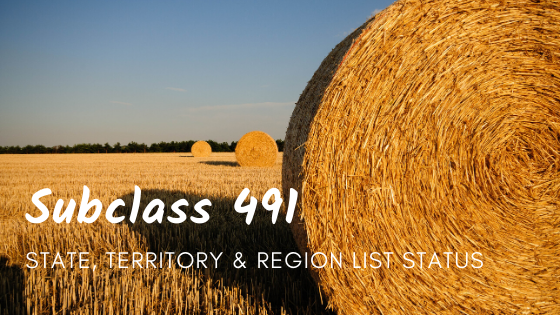 The below is a summary of the status of the new Visa Subclass 491 in all different states and territories.
Last update: 27 June 2020
State/Territory/Region
Status 491
Information
Availability
ACT - Australian Capital Territory
OPEN
The 491 Canberra Matrix can only be submitted from 1 January 2020.
from 1 January 2020
NSW - New South Wales
CLOSED

Open from

Monday 15 June 2020 until Friday 26 June 2020
NT - Northern Territory
OPEN

In response to COVID-19 outbreak Migration NT will stop accepting 

OFFSHORE

 General Skilled Migration applications from 12 midnight on Tuesday 24 March 2020 until further notice.

Monday 9 December 2019
QLD - Queensland
CLOSED
closed from 15/06/2020
SA - South Australia
OPEN
Applications for visa Subclass 190 and new Skilled Worker Regional (Provisional 491) visa will open from the first week in December 2019.
from 4th December 2019
TAS - Tasmania
OPEN
Subclass 491 applications are NOW OPEN
VIC - Victoria
CLOSED
Applications for Victorian nomination under the Skilled Work Regional (Provisional) (subclass 491) visa program will open from 9am Monday 18 November 2019.
From 28/05/2020 the program is closed
WA - Western Australia
OPEN
Invitations to apply for WA State nomination under the new 491 visa will commence on 21 November 2019.

Open for nominations from 9 December 2019
General Requirements Visa Subclass 491
---
Anzscosearch Tools & Services
Self-asses your visa options using our daily-updated searching tool
Check out our services and contact us if you need a Registered Migration Agent.