With the introduction in November 2021 of the new ANZSCO catalogue (version 2021), maintaining consistent data across all state/territory occupation lists and DAMA lists has become an ever-increasing challenge for Anzscosearch.
While still in-force legislative instruments for general skilled migration and employer-sponsored visas refer to previous versions of the ANZSCO catalogue, newly published occupation lists for labour agreements, particularly DAMAs, have started to include occupations from the new catalogue, version 2021.
In general, for the purposes of the regulations, ANZSCO means the Australian and New Zealand Standard Classification of Occupation published by the Australian Bureau of Statistics (ABS) , as in force on the day the relevant legislative instrument commences.
However, if the above was not problematic enough, the most recent ANZSCO update (v2021) has brought a new range of discrepancies that we find ourselves dealing with daily.
Examples of this include, from removed occupations still current in the Combined List (MLTSSL, STSOL and ROL) to duplicate occupations. A great example of this is "Landscape Gardener", an occupation with an ANZSCO code of 362213 in the previous catalogue and ANZSCO code of 362711 in the new 2021 version.
Discrepancies of this nature make it very difficult to present the data in an organised fashion.
Significant inconsistencies to be aware of include:
The use of a unique ANZSCO code to identify two different occupations.
For example: the NT, the Far North QLD and the EK DAMA list, use ANZSCO 421111 to identify both Child Care Worker and Child Care Group Leader. The occupation name associated with the code 421111 is Child Care Worker, with Child Care Group Leader being an occupation specialisation.
The mixing of ANZSCO catalogues.
The latest NT DAMA list mixes occupations from different ANZSCO catalogues. For example, the list includes 362711: Landscape Gardener which is an occupation in ANZSCO v2021, but also 841611: Mixed Crop and Livestock Farm Worker which is an occupation from the previous ANZSCO catalogue version 1.3. Note that ANZSCO code 841611 was removed and substituted by 842399 in the last review. Read more about the latest ANZSCO review.
NSW using ANZSCO codes from the new catalogue when legislation doesn't.
The NSW Skills Occupation List includes the occupation of 234522 Zoologist as published in the new catalogue instead of 234518 Zoologist as per legislative instrument LIN 19/051. Another example of this is Cotton Grower (121211 vs 121511).
How does Anzcosearch approach this issue?
Anzscosearch has embedded some ANZSCO codes from the new 2021 catalogue into the existing v1.3 in the Anzscosearch's primary searching tool to provide consistent and organised information.
The latest DAMA lists generally include these codes and can be easily identified by the suffix [v2021].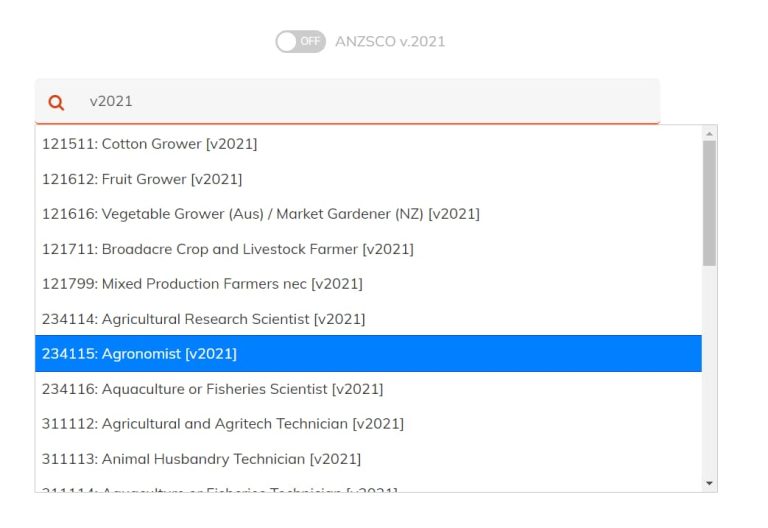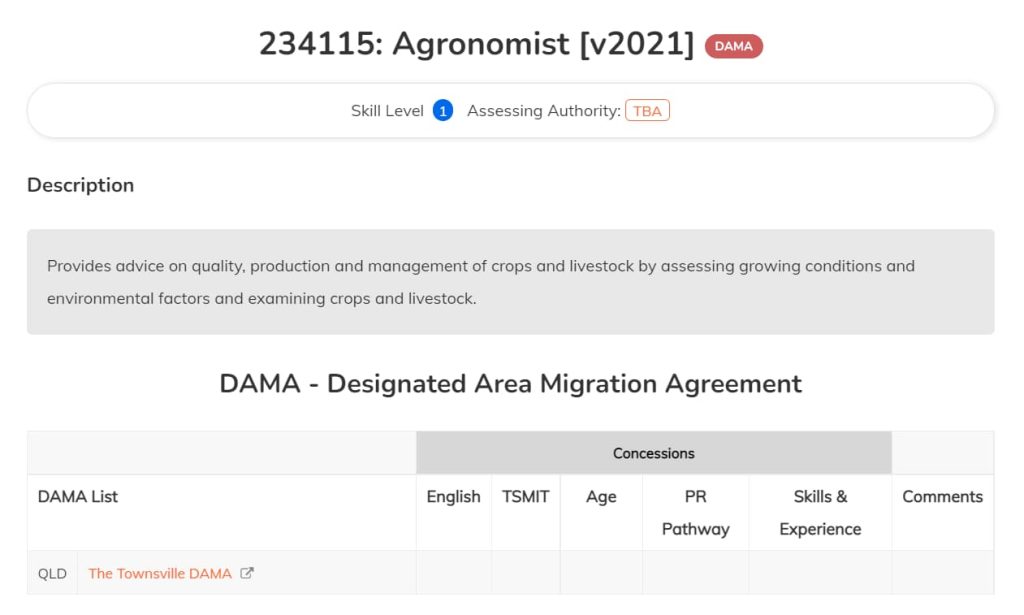 Anzscosearch & DAMA lists
1. Using the Main Searching Tool
In the search box, type an ANZSCO code or name; if the occupation is included in any DAMA lists, a red tag will indicate this with the words "DAMA". Further information regarding specific lists and concessions is available in the DAMA tab (tractor icon).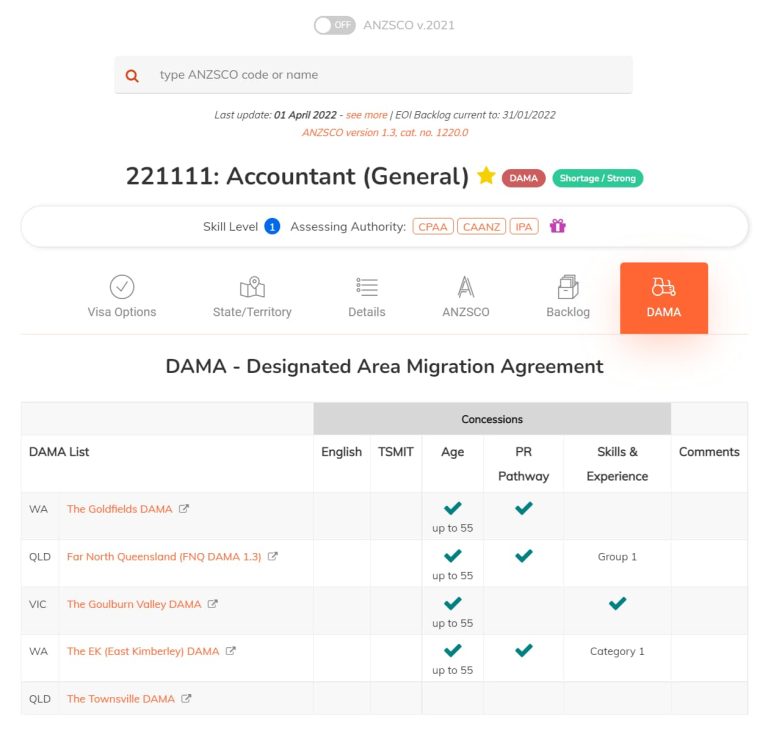 2. By accessing each DAMA list independently
Access all active Designated Area Migration Agreement (DAMA) lists independently and obtain Occupation-based information on eligibility and relevant concessions, all on one page. Navigate from one DAMA to another using the appropriate button.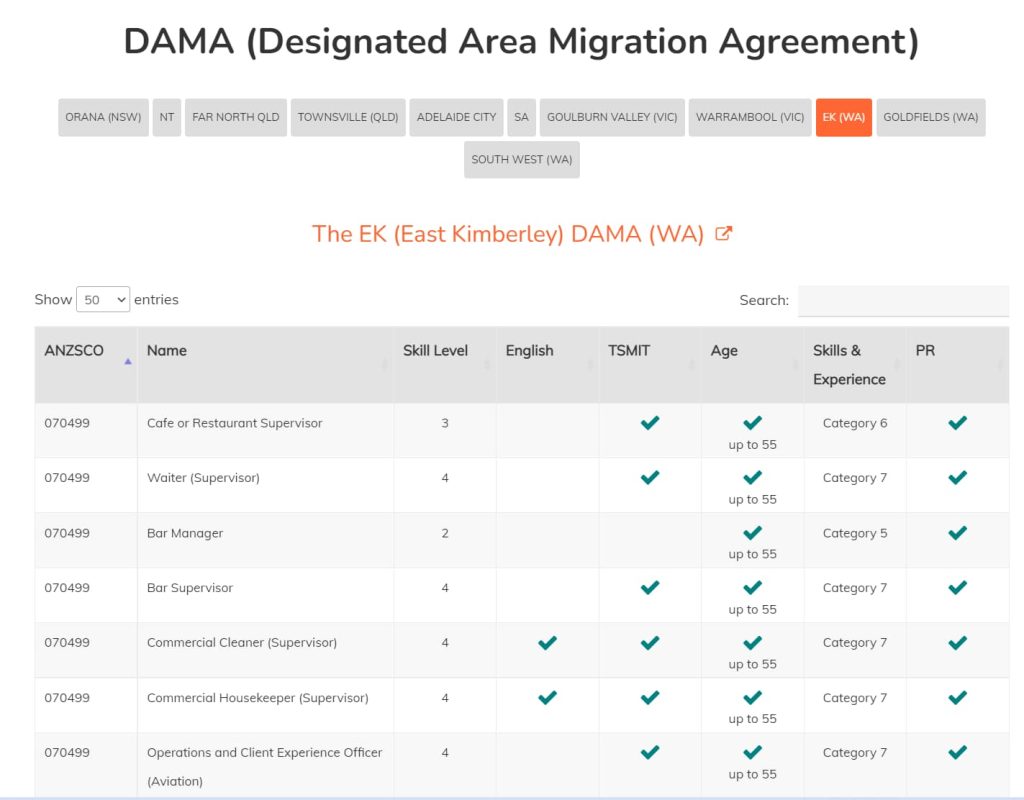 3. By accessing the Combine list of DAMAs
Access all active Designated Area Migration Agreement (DAMA) lists and obtain Occupation-based information on eligibility, all on one page. This search offers a general overview of all DAMA schemes with one click.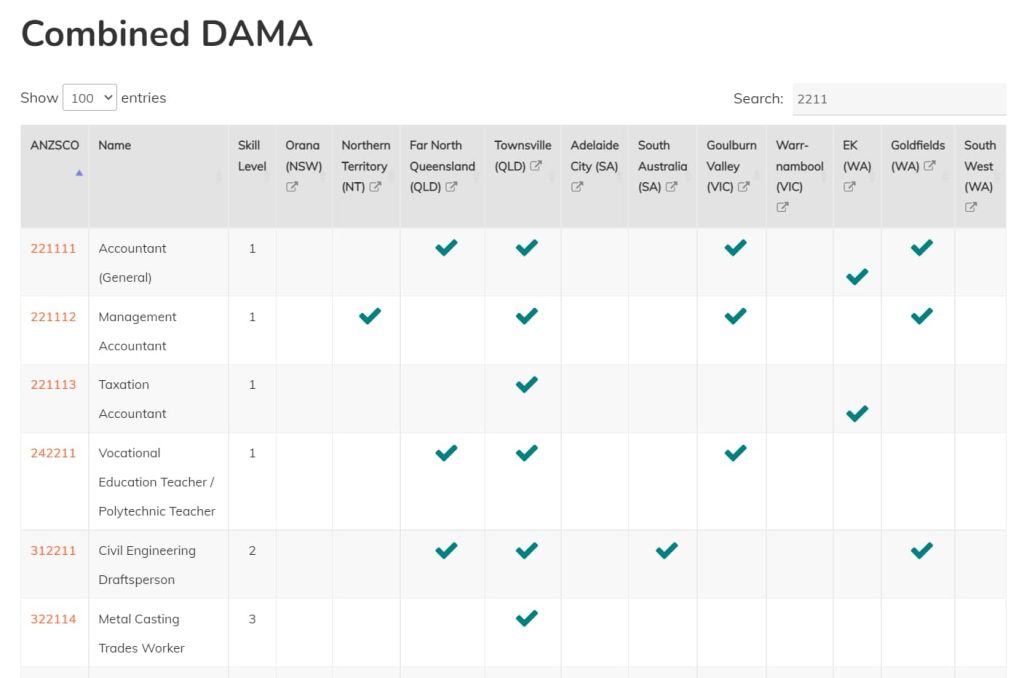 Need immigration assistance?
No problem.
We can help you achieve your migration goals.
About Anzscosearch
We are Registered Migration Agents providing honest and transparent advice in relation to Australia's visa program.
It is a search engine based on the ANZSCO catalogue that combines all federal and State/Territory skilled occupation lists in one single place.
We also provide useful information for Australia's visa program.
Anzscosearch data draws on information directly provided by third-party official websites and is thus as accurate as of the information on those websites.
Anzscosearch validation and verification processes ensure that all data published is as complete, accurate and reliable as possible.
We have been doing this since 2014.