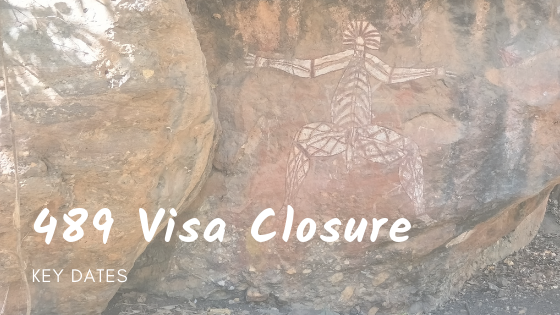 The current Skilled Regional subclass 489 will cease at 11:59pm on 15 November 2019 with the new Skilled Work Regional (Provisional) Subclass 491 visa commencing on 16 November 2019. 
The 10th of September 2019 will be the last day for states and territory governments to nominate and invite candidates for a subclass 489 visa and for intending migrants to lodge an EOI in SkillSelect for this visa. Closing the program in September will allow applicants 60 days to lodge their subclass 489 visa application to the Department of Home Affairs before this visa ceases on 15 November. 
During the last few days the different states and territory government agencies have announced the dates in which they will stop accepting nomination applications for the subclass 489 visa. The below information provides a summary of these dates, noting that some states and territories have already closed the program for new applications:
(ACT) Australian Capital Territory
(NSW) New South Wales
Closing date: 30.08.2019 for offshore applicants
Closing date: 06.09.2019 for onshore applicants
Closed - 13.08.2019 Category 3A - Overseas applicant (TSOL)
Closed - 13.08.2019 Category 3B - Overseas applicant (Job Offer)
Closing date: 20.08.2019 Category 1 - Tasmania graduate

Closing date:

20.08.2019 Category 2 - Working in Tasmania

Closing date:

20.08.2019 Category 4 - Family in Tasmania

Closing date:

20.08.2019 Category 5 - Small Business Owner
---
Do you need assistance with an Australian visa application?
Whether you have a specific question, need advice on the best pathway; or would like immigration advice and assistance to prepare and apply for your visa, get in touch directly with us using our Contact Form or sending us an email to [email protected] 
Anzscosearch only partners with Registered Migration Agents.
Please Note: This information is accurate only at the time of publication and does not constitute immigration advice. Should you need advice or assistance in relation to your specific circumstances, it is in your best interest to consult a registered migration agent