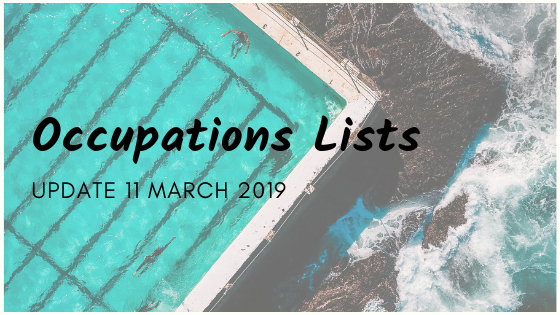 On 11 March 2019 the Department of Home Affairs published updates to the Medium and Long-Term Strategic Skills List (MLTSSL), the Short-term Skilled Occupation List (STSOL) and the Regional Occupation List (ROL). These changes are relevant to Subclass 189, 190, 489, 482, 485, 407, 186 and 187 visas.
In particular, Legislative instrument LIN 19/051 introduced changes to the skilled occupations and assessing authorities for invitations for Subclass 189, 190, 489 and 485 visas, which included:
36 occupations were ADDED to the MLTSSL:
139911 Arts Administrator or Manager

139912 Environmental Manager

211112 Dancer or Choreographer

211212 Music Director

211213 Musician (Instrumental)

212111 Artistic Director

224113 Statistician

224311 Economist

233611 Mining Engineer (excluding Petroleum)

233612 Petroleum Engineer

233999 Engineering Professionals nec

234211 Chemist

234212 Food Technologist

234312 Environmental Consultant

234313 Environmental Research Scientist

234399 Environmental Scientists nec

234412 Geophysicist

234413 Hydrogeologist

234511 Life Scientist (General)

234513 Biochemist

234514 Biotechnologist

234515 Botanist

234516 Marine Biologist

234517 Microbiologist

234518 Zoologist

234599 Life Scientists nec

234911 Conservator

234912 Metallurgist

234913 Meteorologist

234999 Natural and Physical Science Professionals nec

242111 University Lecturer

261211 Multimedia Specialist

261399 Software and Applications Programmers nec

361112 Horse Trainer

452316 Tennis Coach

452411 Footballer
27 occupations were REMOVED from the STSOL.
18 occupations were ADDED to the ROL:
121111 Aquaculture Farmer

121211 Cotton Grower

121213 Fruit or Nut Grower

121214 Grain, Oilseed or Pasture Grower

121216 Mixed Crop Farmer

121217 Sugar Cane Grower

121299 Crop Farmers nec

121312 Beef Cattle Farmer

121313 Dairy Cattle Farmer

121314 Deer Farmer

121315 Goat Farmer

121317 Mixed Livestock Farmer

121318 Pig Farmer

121322 Sheep Farmer

121399 Livestock Farmers nec

121411 Mixed Crop and Livestock Farmer

252312 Dentist

253211 Anaesthetist
As a result of the 11th March changes, some States and Territories have also reviewed their Skilled Occupations lists, including:
South Australia

added 3 new occupations to the State Nomination Occupation List (SNOL) and 31 occupations to the Supplementary Skilled List.

ACT

updated its list in accordance to the 11th March changes.

Tasmania

published a new Tasmanian Skilled Occupations List (TSOL) differentiating eligibility for Subclass 190 and Subclass 489 visas.

Queensland

's Skilled Migration program is currently CLOSED for nominations until the new program year re-opens on 1st July.

Western Australia

introduced some restrictions to the occupations of Dentist (252312) and Anaesthetist (253211).

New South Wales

,

Northern Territory

and

Victoria

have not published any changes.
If you need professional immigration advice, do not hesitate to Contact us.