What is Anzscosearch?
If you are interested to migrate to Australia under the General Skilled Migration (GSM) program, you may want to know the latest changes on Australia immigration and what are your chances of success. Knowing these details is essential for a successful application as this information may change without previous notice.
Please, refer to the following link if you are not familiar with the General Skilled Migration visa process. Alternatively, you can purchase the Anzscosearch Occupation Report which is based on your selected occupation code, and contains all the information you need to know to start your process independently.
Anzscosearch is the most updated search facility intending to help users finding what Australian states are currently demanding skilled employees for a certain occupations. The search is based on the ANZSCO code 6 digits number.
Anzscosearch saves time and prevents the user from visiting multiple websites when looking for the latest updates on occupation lists.
Anzscosearch, the ALL-in-ONE searching tool that helps you find exactly what you are looking for.
What data provides Anzscosearch?
Up-to-date information on General Skilled Migration visas for Australia.
Up-to-date information on each Australian state skilled occupation list.
7 different types of searching based on different criterias: search by ANZSCO code, ANZSCO Group, Assessing Authority, Australian State, Keyword, Skill Level and Task >> read more
SOL / CSOL availability, Skill Level, Assessing Authority and Flag Occupation indicator.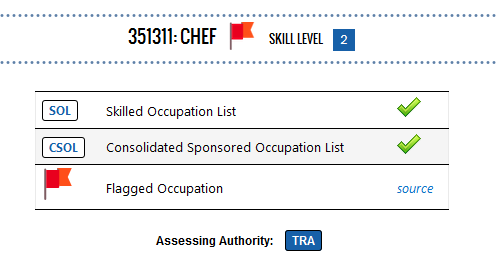 Information divided and classified in 4 different tabs:

1. SUMMARY
Eligibility summary table to identify the visa options for a particular occupation on General Skilled Migration visas (subclass 189, 190 & 489).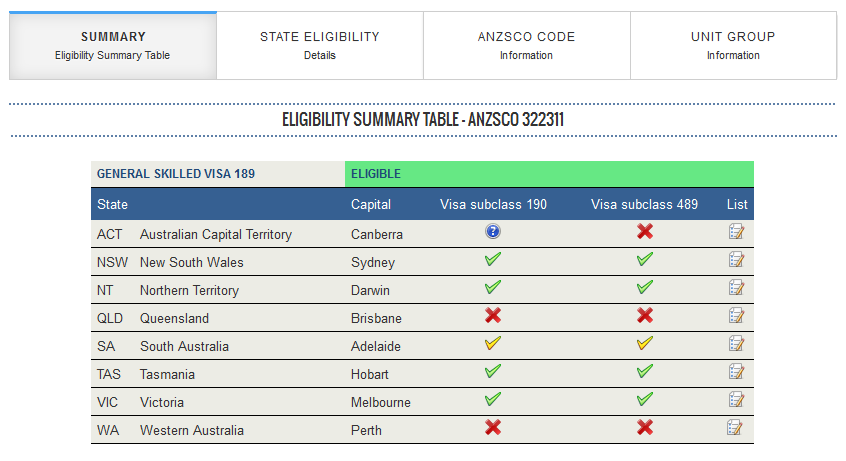 2. STATE ELIGIBILITY
Possible visa options on each Australian state.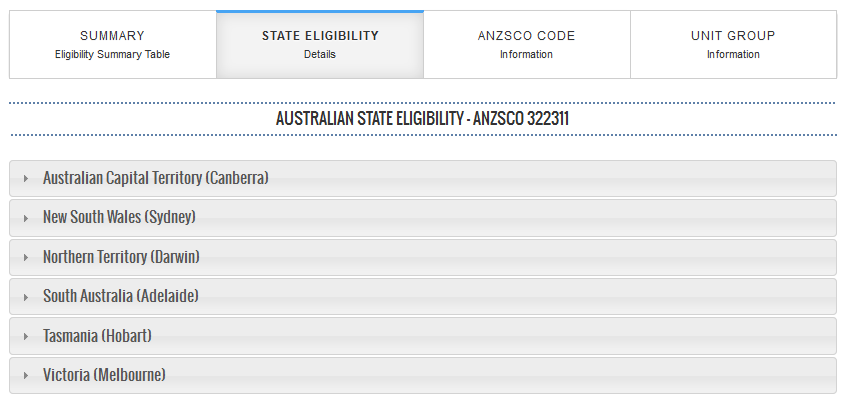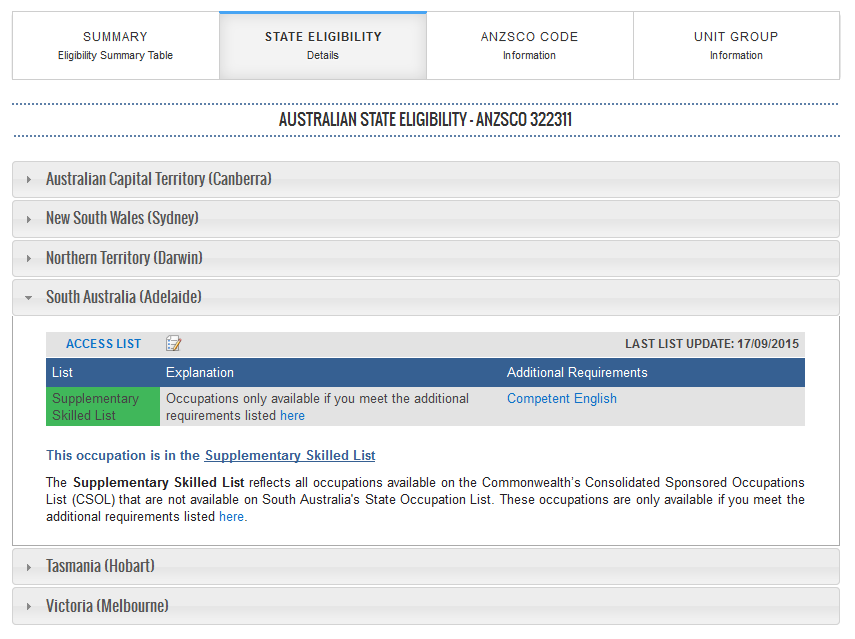 3. ANZSCO INFO
Specific Occupation information:
Description
Skill Level
Alternative Titles
Specialisations
Assessing Authority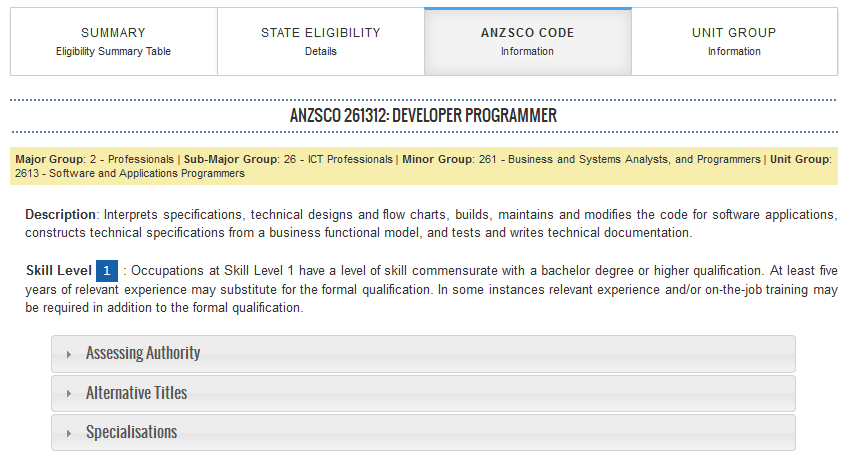 4. UNIT GROUP INFO
Specific Unit Group information
Description
Skill Level
Tasks
Other Occupations Unit Group
Occupation Ceilings program year
Average Weekly/Annual Earnings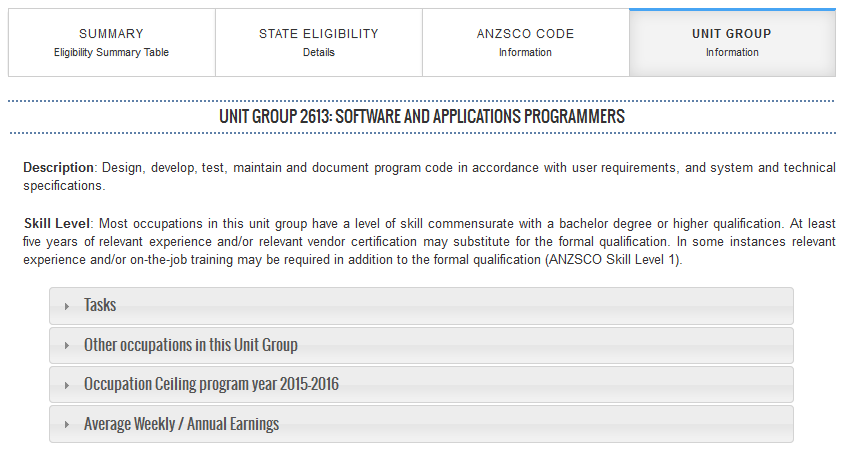 SOL & CSOL list for current program year (and previous years).
History of last changes: State Nomination Lists & Occupation Ceilings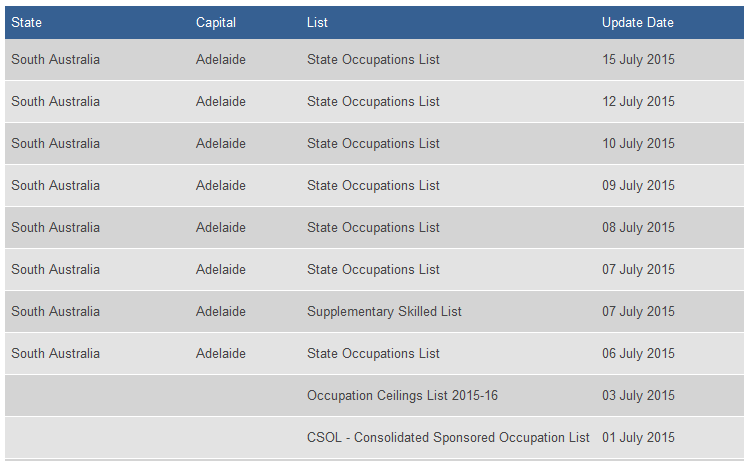 Other useful information: Average salary, occupation ceilings, English Testing System (IELTS &TOEFL) and more.
Main Search
The core of Anzscosearch is the search based on the ANZSCO code. Just type the ANZSCO code or name and select the occupation to access all the information.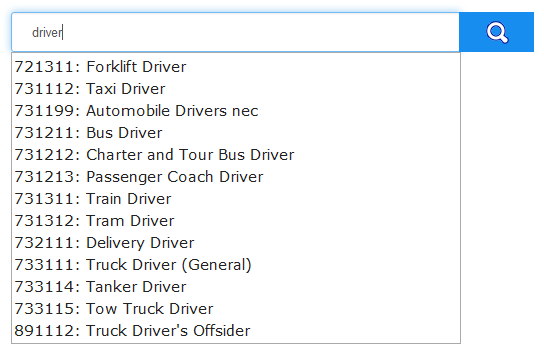 Where is the data extracted from?
The data is mainly extracted from the following official websites:
Australian State Skilled Occupation Lists:
How is the data taken?
An automatic process is in place to alert when a change is detected in any of the relevant data that Anzscosearch provides. Within 24 hours max, the change is processed and the data or Australian State Nomination Occupation List is updated.
Accuracy of the data
At Anzscosearch we are aware of the fundamental issue regarding data, accuracy.
The team works with official sources of information such the Australian Department of Immigration and Border Protection - DIBP or the different Australian states' official websites being all data always appropriately attributed.
Our validation and verification processes ensure that all data released is the most completed, accurated and reliable possible.
Please, feel free to contact us through the Contact Form if you believe to have encountered an error or if you require further details in relation to the quality of the data.
How often is the data reviewed and updated?
The data is daily reviewed. If any change is detected, all relevant information will be updated within 24 hours.
How often can an occupation list change?
Since Anzscosearch started in September 2013, updates have been taking place almost every day. The frequency of these changes depends on the Australian state and/or source of information.
Please, check the links below to know more about the history of the last changes: